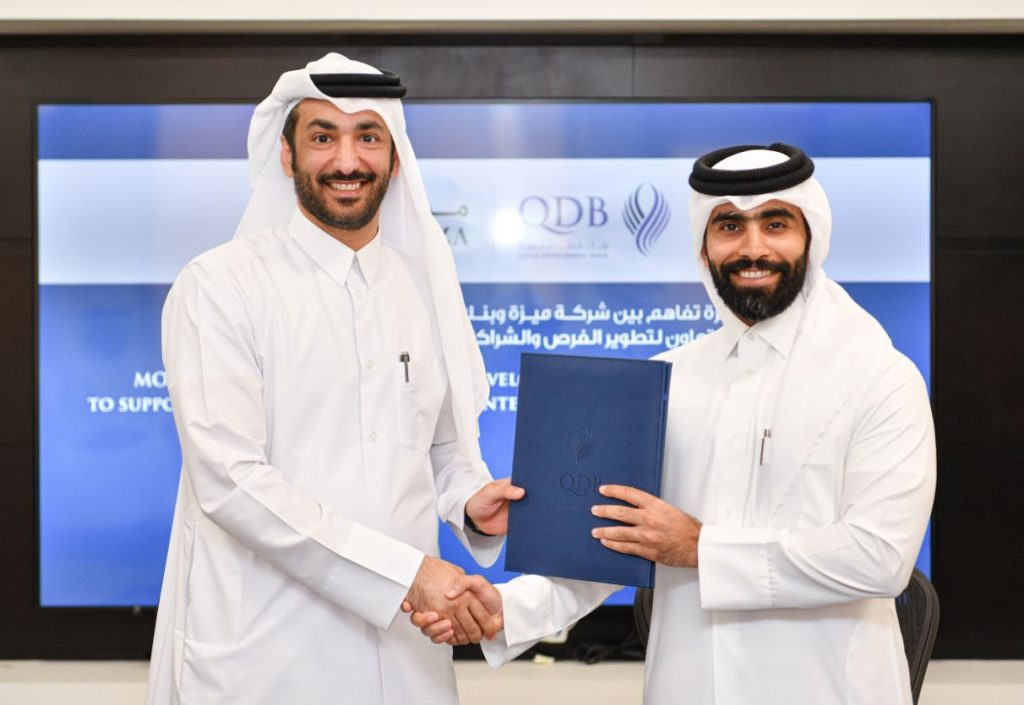 DOHA, Qatar, 20 September 2022: MEEZA, Qatar's prominent end-to-end managed IT services and solutions provider and Qatar Development Bank (QDB) have signed a partnership agreement with the aim of contributing to the advancement of the FinTech industry in the State of Qatar.
Through the partnership, MEEZA and QDB, through Qatar FinTech Hub (QFTH) – a QDB incubator – intend to collaborate on joint initiatives relating to the FinTech industry and foster a strong relationship as part of efforts to build a reliable FinTech ecosystem in Qatar.
To bolster the collaboration, MEEZA and QDB have signed a Memorandum of Understanding (MoU) that will enable QFTH to explore further opportunities with MEEZA in the form of joint projects, and the two parties will cooperate with each other in areas of mutual interest, organise and supervise joint events that achieve the objectives of each party.
The agreement will also enable QFTH to seek input and opinions from MEEZA on matters relating to the technology industry and invite MEEZA to participate in relevant events.
Speaking about the collaboration, Eng. Ahmad Al-Muslemani, Chief Executive Officer, MEEZA, said: It's a great privilege to collaborate with Qatar FinTech Hub in order to enhance Qatar's Fintech landscape. We believe that this Memorandum of Understanding will benefit not only our two organisations but also key players and stakeholders in the sector.  This collaboration demonstrates our commitment to fostering well-established partnerships with various organisations in Qatar. We look forward to fruitful implementation of the terms of the agreement for the advancement of Qatar's economic outlook and in achieving the goals of Qatar National Vision 2030 and support to the Qatar Digital Transformation Journey." outcome-based learning environment that offers our students an insight into the types of environments they can expect to enter after graduation."
Mr. Abdulrahman Hesham Al-Sowaidi, Acting CEO, Qatar Development Bank, said: "Qatar Development Bank always supports efforts that will propel economic growth in Qatar. This Memorandum of Understanding with MEEZA is another step towards creating an empowering environment for experts to share experience and collaborate on financial technology services, further enabling us to build a robust and dynamic FinTech ecosystem in Qatar."
Qatar FinTech Hub is a global FinTech Hub with the purpose of supporting the development of the FinTech industry in Qatar. QFTH work to facilitate collaboration among the participants and stakeholders of the FinTech ecosystem and to develop meaningful local and global relationships that will advance FinTech vision. The Qatar FinTech Hub represents a range of stakeholders in the industry from early stage FinTech companies to large financial services companies and relevant service providers.
MEEZA, a Qatar Foundation joint venture, is an established end-to-end Managed IT services and solutions provider based in Qatar with the mission of becoming the leading provider in the Middle East and North Africa. MEEZA is helping accelerate the growth of Qatar and the region through the provision of world-class Managed IT Services and Solutions.