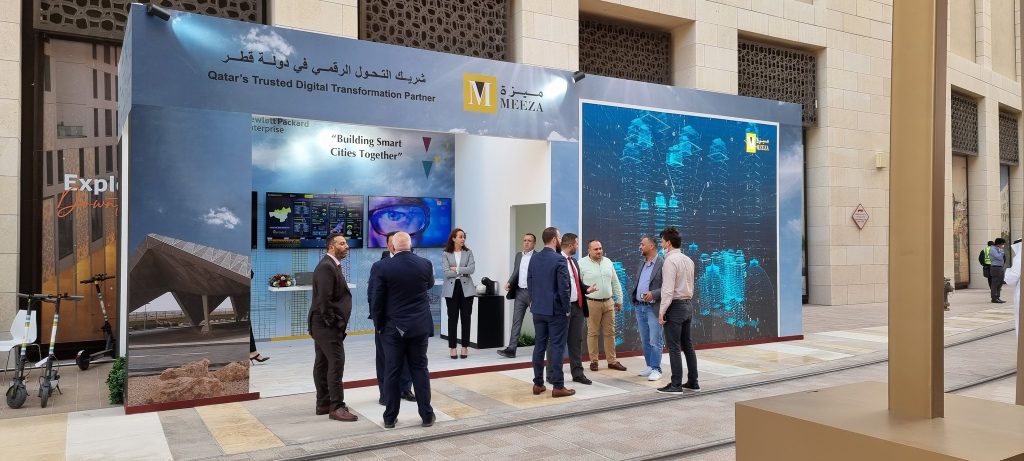 MEEZA's leading experts share insights on the needs of the modern-day ever-evolving smart cities
DOHA, Qatar, MARCH 29, 2022: MEEZA, Qatar's prominent end-to-end managed IT services and solutions provider, has announced it is a Gold Sponsor of the Smart City Expo Doha 2022, held today and tomorrow at Msheireb Downtown Doha.
Smart City Expo Doha 2022 is a global platform dedicated to discussing, tackling and solving the challenges facing the cities of tomorrow, with the aims of introducing innovative technology that will contribute to improving the lives of citizens, residents and visitors through achieving social inclusion, sustainability and empowerment.
Under the patronage of HE Sheikh Khalid bin Khalifa bin Abdulaziz Al Thani, Prime Minister and Minister of Interior, the Ministry of Communications and Information Technology (MCIT)  the leading Smart City Expo Doha 2022 in partnership with Fira Barcelona. Smart City Expo Doha brings together experts from around the globe to share ideas and solutions on how to create a better, more sustainable future for cities and their citizens.
The event, to be held under the theme 'Sustaining a future of resilience', brings together more than 2,500 visitors, over 70 prominent guest speakers, sustainability experts and policymakers, as well as 40 sponsors and exhibitors from 20 countries around the world.
During the event, MEEZA is showcasing its cutting-edge Smart Technologies and advanced expertise in building Smart Cities. MEEZA's experience in the field includes supporting and helping build the technological infrastructure for a number of leading projects in Qatar.
Mr. Faisal Al-Kuwari, Chief Technology Officer, MEEZA, is participating in a session titled 'A World of Data: Start-up Solutions Making Use of Urban Data' while Mr. Fadi Nasser, Chief Commercial Officer, MEEZA, is taking part in a Solution Talk titled 'Urban infrastructures: Digitalisation and innovation for Enhancing Smart Cities' to share MEEZA's insights into the current needs of the modern-day ever-evolving smart cities.
Commenting on MEEZA's sponsorship and participation in the event, Eng. Ahmad Abdulla Al-Muslemani, MEEZA CEO, said: "We are extremely honoured to be a Gold Sponsor of Smart City Expo Doha 2022 as part of our responsibility to support Qatar's vision of building a better technology-driven future. MEEZA is committed to supporting Qatar's unwavering efforts to transition seamlessly to a knowledge-based economy with a focus on innovative ideas and advanced technology that guarantee a sustainable environment for the future generations without compromising the country's rich cultural heritage and identity."
He added, "We believe that our participation in the Smart City Expo Doha 2022 provides an opportunity to leverage on our continuous efforts to bring MEEZA brand to the world by sharing our experience with global target markets. We are proud to be working with Qatar, especially the Ministry of Communication and Information Technology, to create an ambitious advanced digital infrastructure, in line with Qatar National Vision 2030."
MEEZA, a Qatar Foundation venture, is centered on a mission and vision to enable, support, and drive sustainable development in Qatar's information technology sector in line with the Qatar National Vision 2030. It offers scalable, highly available and resilient cloud services that are used to improve customer engagement, facilitate the transformation of products and services, and empower businesses.
MEEZA is a fast-growing player in cloud computing services, both in the regional and international markets. The company continues to innovate and offer cost-effective IT solutions and services to help its clients focus on their core business.