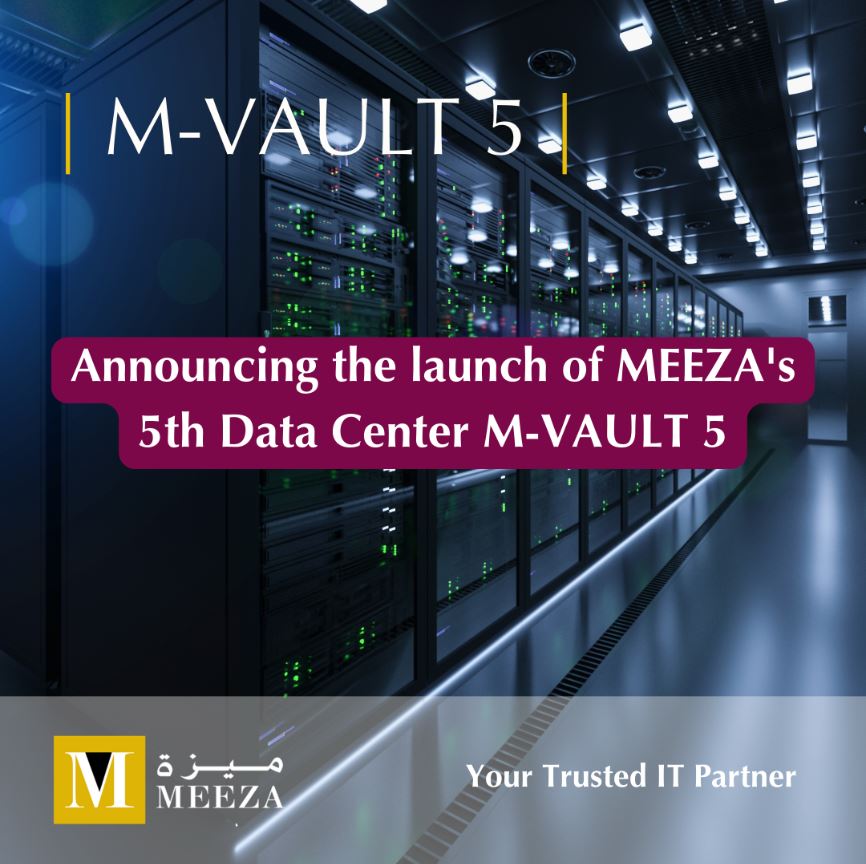 MEEZA, Qatar's prominent managed IT services and solutions provider, has announced the successful launch of its 5th data center building "M-VAULT 5" in Qatar Science and Technology Park (QSTP) to boost Qatar's cloud services and enhance cybersecurity resilience.
The launch of M-VAULT 5 emphasizes MEEZA's position as the largest data center service provider in Qatar. This facility will offer cloud hosting services to customers in Qatar, the region, and the world. It will equally play a pivotal role in the economic growth and digital transformation of customers in the region and help position Qatar as a digital hub.
The new facility, which was completed in record time and less than one year after the launch of MEEZA's 4th Data Center M-VAULT 4, followed the highest international standards designed to meet the explosive demand for data centers and cloud services by local ventures and international hyperscalers.
The M-VAULT 5 data center building will help speed up the actualization of Qatar's digital transformation agenda and promote a smarter, more technologically advanced economy. The new building provides some of the best Information Technology (IT) capacity of any data center building in the country, contributing to the improvement of the level of IT services in the region and the world.
Speaking on the occasion, Engineer Ahmad Abdulla Al-Muslemani, Chief Executive Officer of MEEZA, said:
"We are greatly delighted to launch yet another state-of-the-art data center, M-VAULT 5, as part of our continuous efforts to strengthen Qatar's technological infrastructure and digital preparedness. MEEZA demonstrated unparalleled know-how and ability in this space by completing this project in record time and without compromising our strict adherence to the international standards that enable us to meet the growing demands for managed and cloud services, not only in the local market but also abroad.
"With this additional ready facility, MEEZA has once again proven its ability to provide its customers with quality complex solutions and leading hosting services. We strongly believe that this new data center will contribute significantly to the efforts to transform Qatar to a knowledge-based economy in line with the objectives of the Qatar National Vision 2030. We look forward to welcoming more institutions to subscribe to our unrivaled services to bolster their IT infrastructure and enhance their cybersecurity and digital maturity readiness. "
MEEZA, a Qatar Foundation joint venture, delivers end-to-end managed IT and cloud services that are distinguishable by their high levels of availability and capabilities to provide the best technological solutions to customers, facilitate the transformation of products and services, and empower companies. MEEZA owns four globally rated Tier III certified data centers offering a guaranteed uptime of 99.98%. MEEZA's data centers are designed with the strictest international standards enabling companies to benefit from greater efficiency rates while reducing risk. MEEZA's state-of-the-art data center M-VAULT 2 has been certified as LEED Platinum, while the M-VAULT 3 is LEED Gold certified.