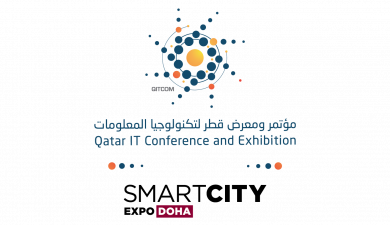 Doha, Qatar – October 27, 2019 – As Qatar's leading Managed IT, Colocation and Cloud services provider, MEEZA demonstrates its specialist knowledge at QITCOM 2019 – the prestigious and largest digital networking event hosted at Qatar National Convention Center from 29 October until 1 November. Acting as Pearl Sponsor to this year's fifth edition, it will reveal expertise on Smart Cities capabilities, Recovery as a Service (RECaaS), Advanced Security Services and Cloud Services. In line with the cooperation of the Ministry of Transport and Communications and supporting Qatar's National Vision 2030, MEEZA is committed to aiding the knowledge-based society and Smart Qatar program.
With opportunity to network locally and internationally, QITCOM is under the patronage of His Highness, the Emir of Qatar H.H Sheikh Tamim bin Hamad Al-Thani and aims to connect a kaleidoscope of innovation from the technology sector with global industry experts and stakeholders. In line with Qatar's National Vision 2030 -to build a knowledge-based, technology-driven economy, innovative and disruptive technologies will be shared, all while creating a knowledge sharing platform for technology providers, policy- makers, industry experts, and global thought-leaders. Featuring a host of international speakers, this year will see 200 technology exhibitors, 100 startups and many other eco system enablers following the theme of: Safe Smart Cities
Ms. Ghada Philip El Rassi, Executive Board Member and CEO of MEEZA Expansion said:
" The 5th edition of Qatar IT Conference and Exhibition (QITCOM 2019) will witness the announcement of new global partnerships of MEEZA Expansion, the international arm of MEEZA, aimed at enhancing its international presence .Our goal is to bring MEEZA's unique brand and value offering to the world by expanding into potential global target markets. Our strategy of entering new markets is determined by conducting comprehensive research and analysis that shows the best method to achieve success and optimize MEEZA's asset investments in international markets that are abundant with high potential."
Commenting on the occasion, Eng. Ahmad Mohamed Al Kuwari, MEEZA CEO said:
"We are honoured to, yet again be part of the renowned exhibition: QITCOM, that is in line with our vision, and Qatar's vision of building a smarter future. During the 5th edition, we continue to support the Ministry of Transport and Communications and National vision of building a knowledge base society and aligned with the Smart Qatar program. The pressing goal is to work together to see the growth of digital transformation within Qatar, crucial as we approach the final stages of the realization of the Qatar's National Vision 2030. When it comes to its objectives of developing an innovative community that are aware of, and can easily implement advanced technology, MEEZA certainly strives to fulfil these aims. We are proud to be the prestigious event's Pearl Sponsor and to be aiding to the development of creating an advanced digital infrastructure, where upon this essential national vision can be founded."
The 2019 QITCOM Exhibition and Conference also serves as a necessary platform, through which MEEZA is demonstrating its Smart Technologies and solid expertise in building Smart Cities. MEEZA's experience in the field includes supporting and helping build the technological infrastructure for a number of leading projects in Qatar, including the creation of an integrator environment with the best smart cities solutions at Msheireb Downtown Doha (MDD). As part of its agreement with Msheireb Properties, MEEZA will provide MDD with the information technology and integrator systems for designing, managing and monitoring processes.
MEEZA, a Qatar Foundation joint venture, is an established end-to-end Managed IT Services & Solutions Provider based in Qatar that aims to accelerate the growth of the country and the region through the provision of world-class Managed IT Services and Solutions, while providing the Qatari people and others throughout the region with opportunities to undertake fulfilling careers in the IT industry.
In addition to earning its status as a renowned systems integrator and rapidly establishing its expertise in the area of Smart Cities and the Internet of Things (IoT), MEEZA has three Tier III certified data centres, known as M-VAULTs offering a guaranteed uptime of 99.98% built to comply with the most exacting international standards enabling businesses to benefit from greater efficiencies and reduce risks. MEEZA's State-of-the-art Data Centre M-VAULT 2 is LEED Platinum certified where M-VAULT 3 is LEED Gold certified.
The Company has also established a centralized Command & Control Centre (C3) that monitors and optimizes MEEZA services for clients. Coupled with this facility, MEEZA prides itself with having the first commercial Security Operations Centre (SOC) in Qatar.
To find out more about MEEZA's innovative solutions and its vision for a Smarter Qatar, visitors can approach MEEZA Stand, where the Company's representatives will be introducing its product range and end-to-end services to clients, as well as discussing with them how to minimize business risk, reduce IT capital expenditure and speed up time-to-market for new initiatives.