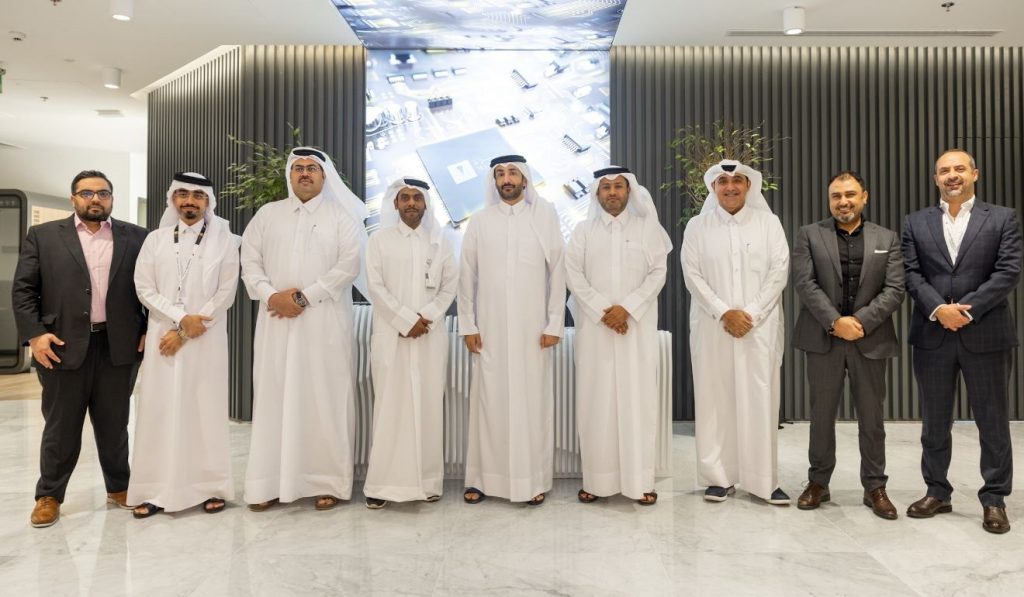 Msheireb Properties announced the opening of MEEZA's new office in the world's first fully built smart and sustainable city district at Msheireb Downtown Doha (MDD). MEEZA Qatar's Biggest Data Centre service Provider will be an addition to  MDD's impressive list of technology tenants.
Commenting on the progress, Msheireb Properties CEO Eng. Ali Al Kuwari said, "We are extremely well positioned, as a country and as a company to meet real estate demand that is expected to pick up steadily ahead of the 2030 Asian Games. Our spaces are designed with the person in mind and executed with care for the environment – two considerations that will continue to play a significant role in decision-making. We have already seen that Msheireb Downtown Doha is becoming a hub for technology and services companies and are eager to welcome MEEZA."
MEEZA's new office opening in Msheireb Downtown Doha reflects its prime position as the preferable business district thanks to its easy accessibility, world class facilities, and its prime location in the heart of Doha.
Eng. Ahmad Al-Muslemani, Chief Executive Officer, MEEZA, said: "We are thrilled to embark on this new chapter as we open our new office in Msheireb, Heart of Doha. This milestone is a testament to the power of collaboration and innovation, which have been the cornerstones of our journey with Msheireb over the last eight years.  This decision will  not only underscores our commitment to sustainability but also highlights the significant role MEEZA has played in shaping Msheireb Downtown Doha into the remarkable smart city it is today."
Eng. Ali Al-Kuwari added: "We are delighted to welcome MEEZA to our smart and sustainable city district Msheireb Downtown Doha. We look forward to welcoming more companies and attracting new investments to contribute to Qatar's thriving economy."
With a total area of approximately 2131 square meters, the new MEEZA office at Msheireb Downtown Doha located in Building 2, Street 981, will leverage the most advanced smart services and technologies. It features state-of-the-art facilities and amenities, including high-speed internet, cutting-edge conference rooms, and on-site dining options. The office also offers a range of flexible office solutions to meet the evolving needs of MEEZA's clients, from individual workstations to private offices and spaces.
Msheireb Downtown Doha is part of a ground-breaking development that is recognised as one of the most innovative and sustainable real estate projects in the world. The development features cutting-edge technology and is designed to maximise energy efficiency while reducing its carbon footprint. The district has adopted the latest advanced smart services and applications for a new fully digital experience accessible to tenants, residents, and visitors. It has also demonstrated a commitment to sustainable living and business practices with one of the highest concentrations of gold or Platinum LEED (Leadership Energy and Environmental Design) certified sustainable buildings globally.
Msheireb Properties is a leading sustainable real estate developer, committed to creating sustainable, livable, and vibrant communities that foster social, environmental, and economic well-being. The company's portfolio includes some of the most innovative and ambitious projects in the region, including Msheireb Downtown Doha, one of the largest and most sustainable downtown regeneration projects in the world.
-End-
About MEEZA:
MEEZA QSTP-LLC (Public) is an established end-to-end Managed IT Services and Solutions provider founded in Qatar Science & Technology Park (QSTP), that aims to accelerate the growth of the country and the region through the provision of world-class services and solutions, while providing the Qatari people and others throughout the region with opportunities to undertake fulfilling careers in the IT industry. MEEZA is a publicly quoted company on the Main Market of Qatar Stock Exchange, open to customers and investors with share capital of 648,980,000 QAR. The company has five Tier III certified data centers, known as M-VAULTs, offering a guaranteed uptime of 99.98% built to comply with the most exacting international standards enabling businesses to benefit from greater efficiencies and reduce risks. MEEZA's offerings include Managed IT Services, Data Centre Services, Cloud Services, and IT Security Services, in addition to expertise in Smart Cities Solutions and Artificial Intelligence (AI).
About Msheireb Properties
Msheireb Properties is a subsidiary of Qatar Foundation for Education, Sciences and Community Development and Qatar's leading sustainable property developer, supporting the goals of Qatar's 2030 Vision and Qatar Foundation's objectives.
Its mission is to change how people think about urban living and improve their overall quality of life through innovations that encourage social interaction, respect for culture, and greater care for the environment.
Its signature project, Msheireb Downtown Doha, is one of the smartest, most sustainable city districts, which employs a new approach to urban planning by combining traditional methods and modern technology to preserve Qatar's environment and cultural identity. All buildings are either Gold or Platinum LEED-certified.
It is an integrated city that embraces modern, fully furnished residential units, a range of mixed-use and commercial buildings that offer a wide array of retail and business services, and cultural facilities. It is also the home to Msheireb Museums, Mandarin Oriental Hotel, Al Wadi Hotel – MGallery by AccorHotels, Park Hyatt Hotel, Msheireb Galleria, and Barahat Msheireb- the biggest open-air covered pedestrian square in the region.