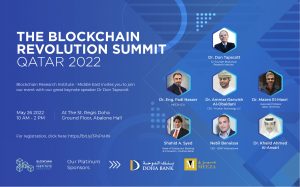 The Blockchain Research Institute Middle East cordially invites you to the
"Blockchain Revolution Summit – Qatar 2022"
Date: May 26 2022
Time: 10 AM – 2 PM
Venue: The St. Regis Doha, Ground Floor, Abalone Hall
The Blockchain Revolution Summit 2022 (Qatar) brings top industry leaders, academics, policy-makers, entrepreneurs, and researchers to join the blockchain ecosystem and learn, network, innovate, and strategize to maximize their technology investments. Joining the summit is opted to increase the level of awareness and understanding of blockchain technologies. As shown in the ongoing pilots and production solutions, blockchain is being applied in every industry, solving many business and technology burdens through securing and optimizing business operations and enabling new innovative applications. The Summit will highlight opportunities to create industry solution frameworks and guidelines, leveraging blockchain technologies to secure data, reduce costs, improve timelines and eliminate disputes in any given process.