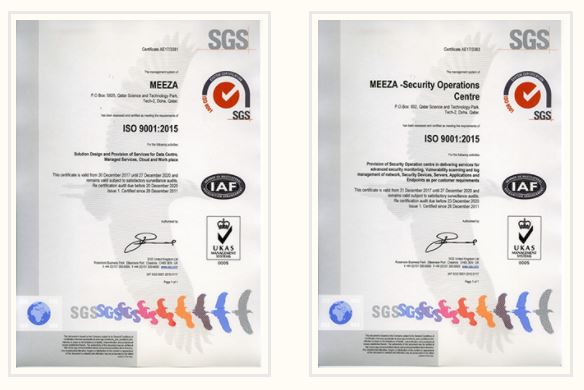 Doha, Qatar – 3 February 2021 – MEEZA, Qatar's pioneering managed IT services center, has announced that all the recertification and surveillance audits for the year 2020 has been successfully completed for the different ISO standards in support of its robust IT operations.
The recertifications include ISO 27001:2013 for Information Security Management System, ISO 9001:2015 for Quality Management System, ISO 45001:2018 for Occupational Health Safety Management System based on the new Standard requirement and ISO 14001:2015 for Environmental Management System.
The surveillance Audit include the ISO 20000-1:2011 Service Management.
For the purposes of recertification, MEEZA's systems, processes and services were checked against rigorous ISO standards requirements and evaluation process.
Commenting on the accomplishment, Eng. Ahmad Abdulla Al-Muslemani, MEEZA CEO stated:
"As Qatar's leading Managed IT services center, we aspire to bring the best to our clients across Quality, Information Security, Service Management, Environmental and Occupational Health, Safety Management– all of which begins with compliance and credibility. We continue to maintain best practices in the industry that champion trust within our community, ensuring that data remains in safe hands through our systems and processes, and MEEZA delivers only the best services.
The renewal of our ISO certifications is a reaffirmation of MEEZA's commitment to always maintaining the highest levels of internationally recognized standards through the years."
ISO/IEC 27001 specifies the requirements for establishing, implementing, maintaining and continually improving an information security management system within the context of the organization. It also includes requirements for the assessment and treatment of information security risks tailored to the needs of the organization.
ISO/IEC 20000-1 specifies requirements for an organization to establish, implement, maintain and continually improve a service management system (SMS).
ISO 9001 specifies requirements for a Quality Management System when an organization needs to demonstrate its ability to consistently provide products and services that meet customer and applicable statutory and regulatory requirements, and aims to enhance customer satisfaction.
ISO 14001 sets out the criteria for an environmental management system and can be certified to. It maps out a framework that a company or organization can follow to set up an effective environmental management system.
ISO 45001specifies requirements for an occupational health and safety (OH&S) management system, and gives guidance for its use, to enable organizations to provide safe and healthy workplaces by preventing work-related injury and ill health, as well as by proactively improving its OH&S performance.
With MEEZA boasting the one of the industry's range of ISO certifications and the renewal of the ISO/IEC27001:2013, MEEZA remains committed to comply with the Information Security Standards and other standards for services and operations for IT Solutions Providers in Qatar and the region. Further to this vision, the entity is underway for completion of the ISO 22301 certification for Business Continuity.
As a Qatar Foundation venture, MEEZA's renowned end-to-end Managed IT Services and Solutions have been instrumental in supporting the technological advancement in the country. Core to its operations is facilitating businesses with highly secure, optimized virtual environments that ensure the security of confidential information. Meeza has supported the technological infrastructure of many leading projects in Qatar through the provision of world-class Managed IT Services and Solutions geared at accelerating growth across social and economic fabric of the country and the region.